Thanksgiving is just around the corner and for y'all trying to stay healthy, my 90 Calorie Healthy Pumpkin Banana Bread contains NO ADDED FAT, SUGARS, and only adds up to 89 CALORIES a slice! Glazed with a generous coating of honey, this loaf bread is so moist, cozy, and tastes just like fall… but healthy, in bread form! This 7 ingredient recipe is definitely a keeper even for my pumpkin haters 🙂
{Low Fat, Low Calorie, Small Batch, Dairy-Free, Nut-Free, Refined Sugar-Free, low FODMAP}
Currently snacking on the last slice of this 90 Calorie Healthy Pumpkin Banana Bread as I type this… I've been tracking my calories using Lifesum over the past month, and this has been my go-to breakfast, snack, AND dessert because of how filling, but low in fat and calories this is!
It's been a couple of months into school and sometimes I find myself breaking and down crying for no reason, someone please tell me this is completely normal?! All the exams and essays have been so overwhelming and I've gained weight around my lower belly area (which is so frustrating because my abs were finally peeking through this summer)! Hopefully, by eating healthier, sleeping more and taking better care of my needs and wants, my body will be able to handle stress in a better way.
Speaking of needs and wants, I need to whip up another loaf of this 90 Calorie Healthy Pumpkin Banana Bread. Now.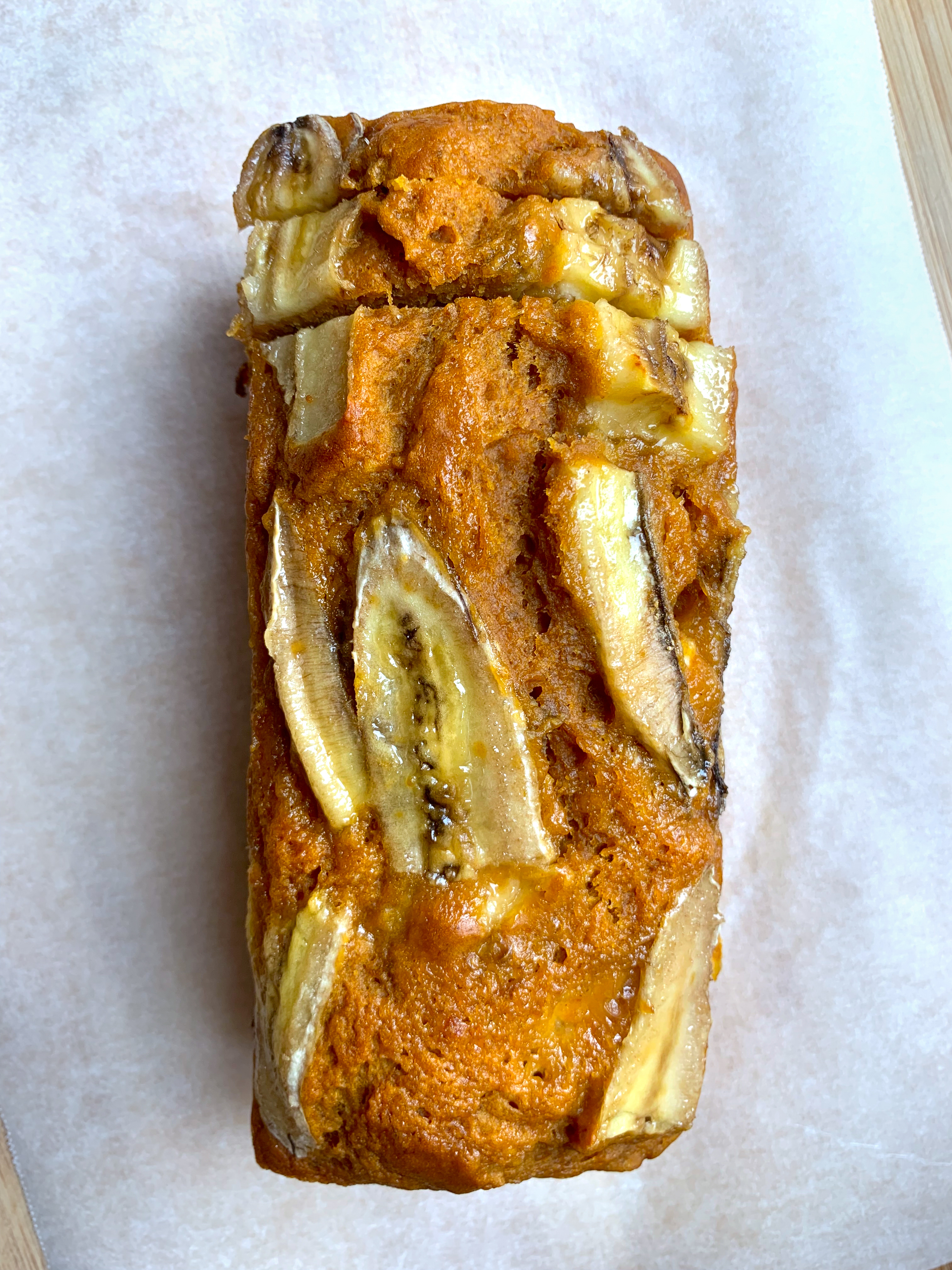 With the banana slices peeking out and the golden-brown of the pumpkin, this is quite the instagrammable fall-themed snack to post on Instagram stories! Gotta love our pumpkin spice 😉
50 Calorie Chocolate Banana Bread Bites | jump to recipe
Look at her! So moist and fluffy and only 90 calories!
Pro Tip: I love eating this right out the oven when it's warm and fluffy, but after leaving it overnight in the fridge it becomes even moister and flavorful!
You Might Like: Low Calorie Protein Pumpkin Pancakes for One
Here's an unedited shot just to keep things real 🙂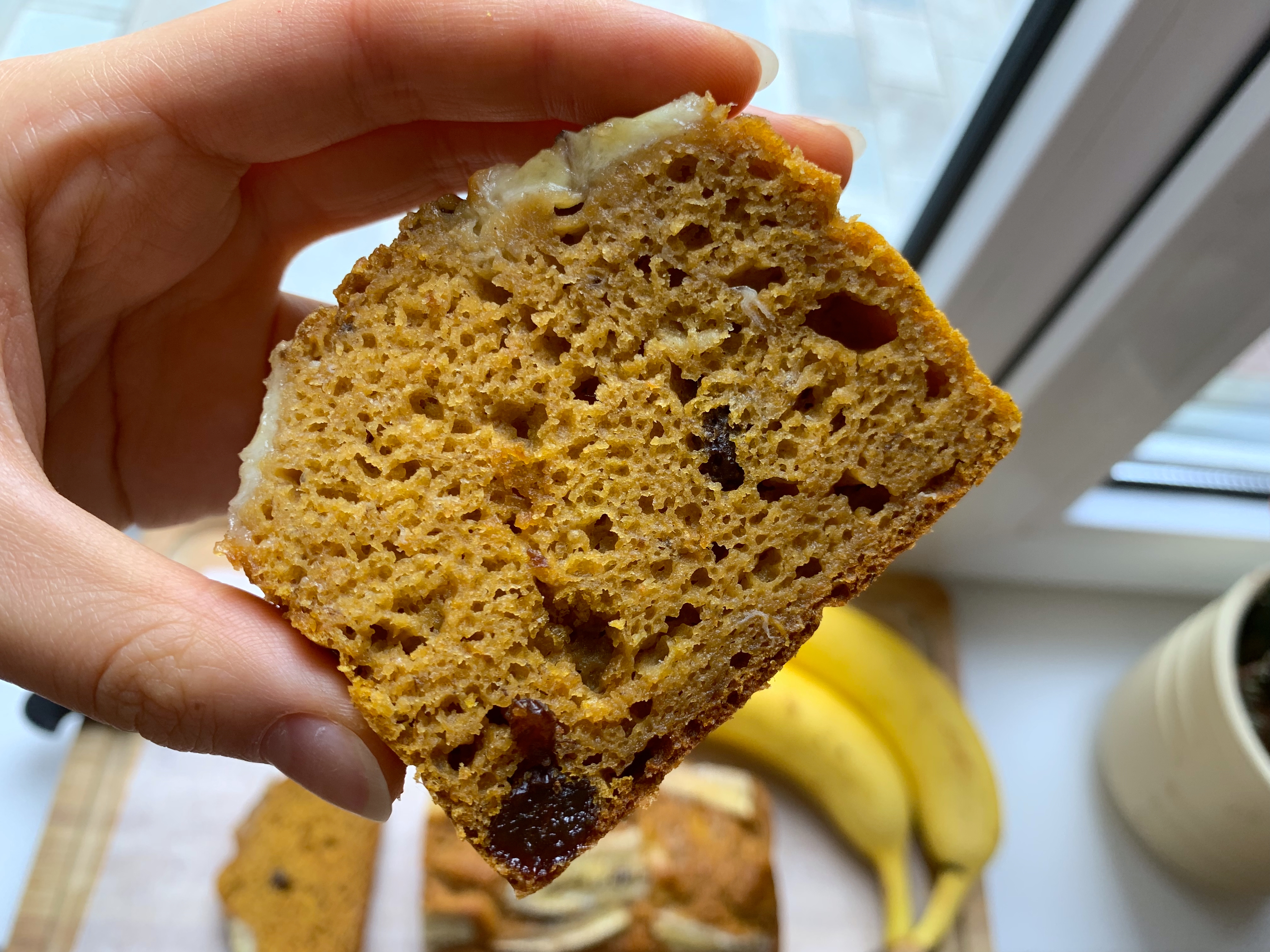 It tastes so sinful you wouldn't believe it's healthy!
Pin this before you forget!
drumroll please….
*Full macros and nutrient info beneath directions!*
I promise you'll love my 90 Calorie Healthy Pumpkin Banana Bread just as much as I do 🙂
Happy baking!
your reviews:

Check out my recipes on youtube:
Cheers!
Heather
90 Calorie Pumpkin Banana Bread
55 mins
10 thick slices
Ingredients:
1 banana
,
3/4 cup all purpose flour
,
2 eggs
,
4 tbsp honey
,
1/2 cup unsweetened pumpkin puree
1/2 tsp baking powder
1/2 tsp baking soda
Rated
5
/5 based on
11
customer reviews