Man, it's been a hot minute since I've posted a recipe. I have so many typed out, waiting in half-finished draft posts, but exam preparation for finals (and binge-watching Linda Sun) has truly gotten the best of me… hopefully, I'll have them up this summer!
If you've read any of my other posts, chances are that you know about my unfortunate habit of overeating, especially during stressful periods. This brings me to Linda Sun. Protein Pancakes, Protein Oats, and Bing sound familiar to anyone?
Meet Linda.
Besides exercising, stretching, and taking long walks and hikes, Linda Sun's YouTube videos have kept me mostly sane during the past six months of studying. Every time I watch them, I am reminded not to beat myself up after overeating and dive right into restrictive behaviours but to treat my body with kindness and patience. I've learned to enjoy exercise as a form of entertainment and not a way to unwind my "food-related damages". And I'm so proud to say that her message is slowly (but finally) sinking in. Baby steps! Every bit of progress deserves to be celebrated, no?
Life update: food struggles
A longtime dream of mine is to one day be able to eat intuitively. On bad days, I find myself thinking about food all the time… my next meal, what I should snack on next … that dessert recipe I saw on Instagram, and how many pounds my overeating habits would translate into. Eating scares me sometimes because I'm afraid I won't be able to stop eating until I feel sick.
Something I've been doing in the past week is eating large, filling meals to curb my habit of snacking out of boredom and stress. I've been adding more fats and protein to each meal alongside slow-release carbs like oats, which is supposed to bump up the satiety factor. My brother has also been really supportive by reminding me to eat slower and to stop when I'm full. Call me delusional, but I think it's working! Mentally, at least. Perhaps I'm actually consuming more food than I did before, but it's been really nice not being plagued with food-related thoughts constantly. Like I said, baby steps 😉
Anyways, with finals just around the corner, I thought I'd share some of my favourite meals by the queen herself, Linda Sun, with you guys! They're delicious, balanced breakfasts packed with all the nutrients our bodies will definitely appreciate 💖
1. Linda Sun's Protein Oat Pancakes 🥞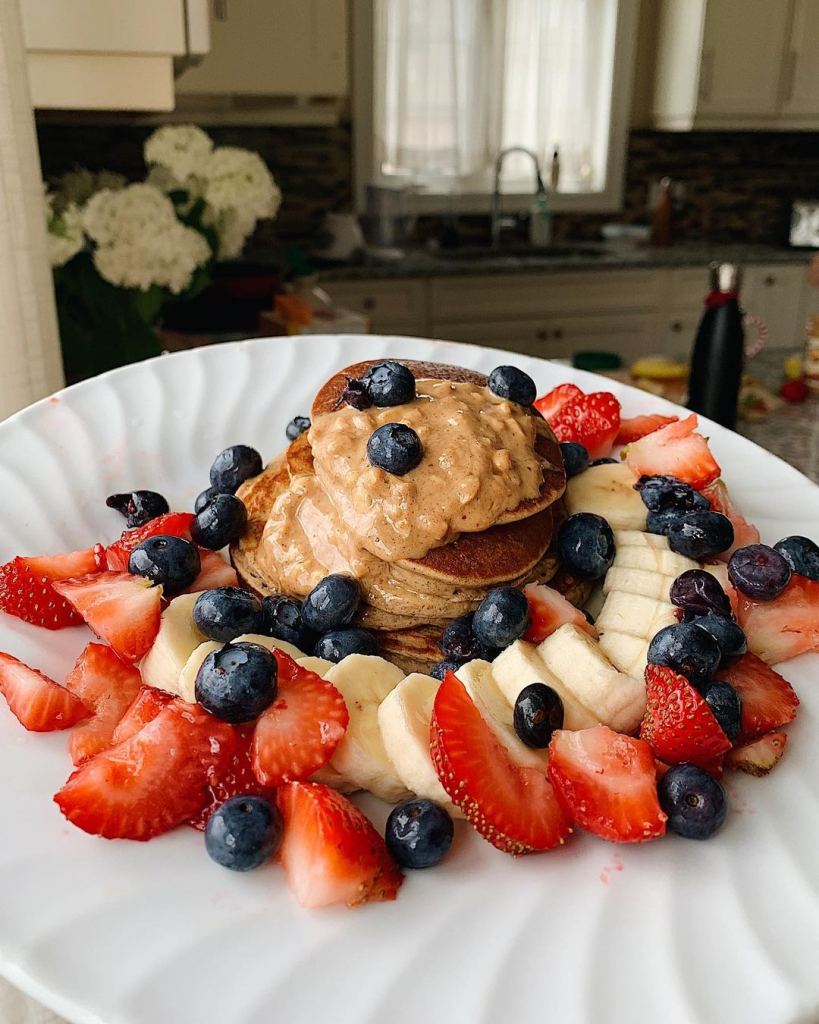 A perfectly balanced and delicious single-serve breakfast, packed with complex carbs, healthy fats, and over 30 grams of protein! A classic 🧇Linda Sun breakfast.
Fun fact: Linda's protein pancake recipe also doubles as a protein waffle recipe! If you check out her Instagram stories, you'll know that it's gained a cult following overnight.
2. Linda Sun's Stovetop Protein Oatmeal 🥣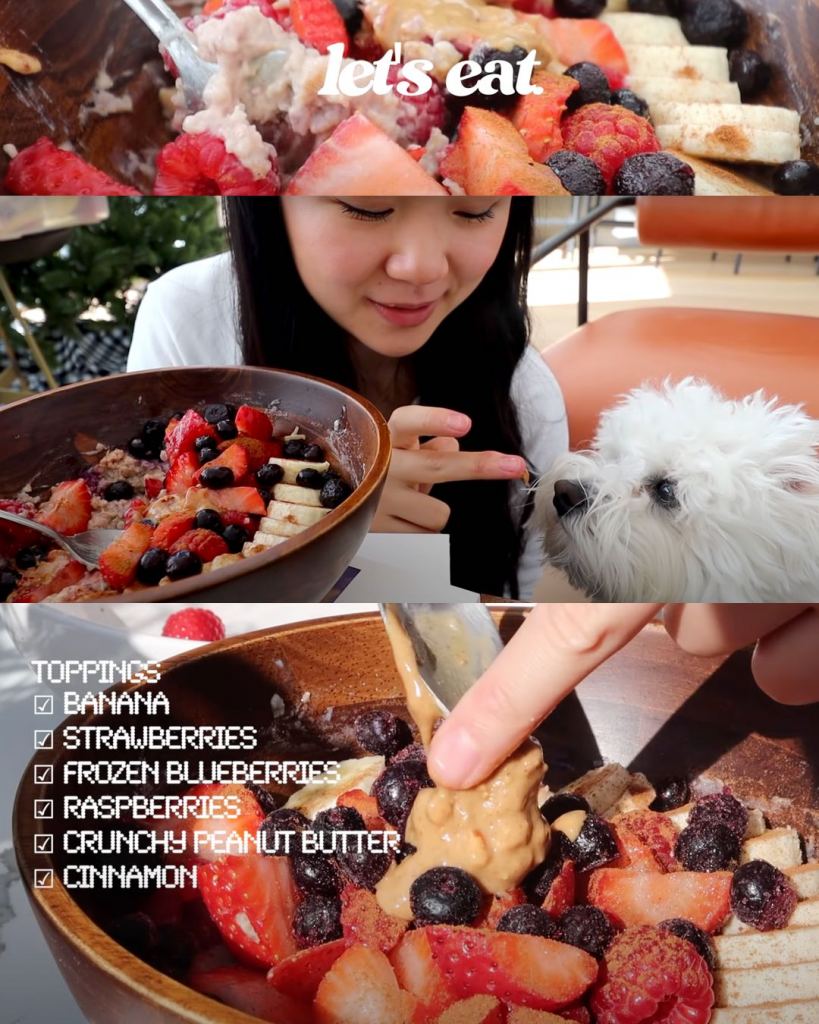 I love oats for breakfast because it's so easy to whip up during busy mornings. I prep mine the night before as overnight oats, so I can heat 'em up on the stove when it's chilly outside and eat them straight of the fridge, cold, on warmer days. These are the exact ingredient recipe measurements that Linda Sun uses:
Oatmeal Ingredients
1/2 cup rolled oats (45g)
1 cup of water (237 ml)
1/2 banana mashed into oats while cooking (approx 50g)
1/4 tsp salt
1 scoop Protein Powder,

added after oats are cooked

(Linda uses PEScience's SELECT protein in the flavour Cake Pop… click HERE for $10 off any order of $30 or more)
Toppings: cinnamon, berries, fruit, maple syrup, crunchy peanut butter
3. Mother Sun's Layered Bing (Chinese Flatbread) 🫓
Mother Sun's Bing (Chinese Flatbread) recipe – courtesy of @healthbychels
This is Mother Sun's to-go flatbread! Just four ingredients – flour, water, yeast and salt, just like my Foolproof 2 Hour New York Bagel Recipe!
Linda Sun's Bing (饼) is one of many pan-fried and layered versions of stovetop bread enjoyed in Northern China, and makes for the perfect source of carbs to pair alongside all meals. It is absolutely decadent drizzled with tahini, or Chinese grilled fish. (P.S., I just discovered the flatbread emoji today… since when did they add it?!)
Bing Ingredients
3 cups flour
1 3/4 water
1 – 2 tbsp oil
2 tsp salt
Recipe Instructions:
Slowly mix water into flour while kneading, and continue to knead until dough forms into a ball shape.
Let dough sit for 30 mins COVERED. After 30 mins the dough should be soft and easier to knead.
Knead again, then place dough on a floured surface and roll out into a thin long rectangular shape.
Evenly spread salt and oil over the rectangular dough, then lightly sprinkle some more flour over the oil.
Roll the dough up, seal the edges, then cut it into smaller sections… like a cinnamon roll!
Using a rolling pin, flatten the small sections of dough into a long rectangular parcel. Then, fold in from the 2 ends so it resembles a smaller rectangle.
Roll out again, fold in half, roll out again, then repeat with other dough pieces.
Heat a lightly greased pan on medium heat, and cook bing uncovered for 1 minute, then flip and cook for 1 minute covered with a lid or until browned and crispy on both sides and the dough has risen. Repeat for all bing dough.
Remove from the pan and top with a fried egg and freshly smashed avocado too, à la Linda Sun of course! Bon appétit!
Until next time!
Heather
Your Reviews: