If autumn was edible (and macro-friendly), I'm pretty sure that it would taste like these Low-Calorie Pumpkin Protein Pancakes For One. We're talking an explosion of pumpkin spice, snickerdoodles, and maple. No joke. And y'all, these pumpkin protein pancakes mean business. Coming in at over 30 grams of protein for a mere 276 calories, this single-serve recipe is crazy satiating, and will most certainly satisfy your fall-flavoured cravings whilst providing a slow and sustained release of energy to fuel you throughout the day. It's okay, you can thank me later 😉
Surprise, surprise, I'm back with yet another pancake recipe! No interesting backstory behind this one, I just had some pumpkin that needed to be used up and a pancake craving that was dying to be satisfied (Linda Sun's recipe got me hooked on them!), so whipping up a batch of pumpkin protein pancakes was a no brainer.
Playing around with the measurements, this recipe actually ended up being a pumpkin version of Linda's protein pancakes (she also uses PEScience protein!); but hey, who's complaining? One could even argue that this just goes to show how versatile recipes can be when appropriate substitutes are made. In fact, I've included a whole section on recommended ingredient substitutions down below! Even if you don't have access to all the listed ingredients, need to use up ripe produce, have specific dietary needs, or simply detest the taste of pumpkin, don't worry, I've got your back!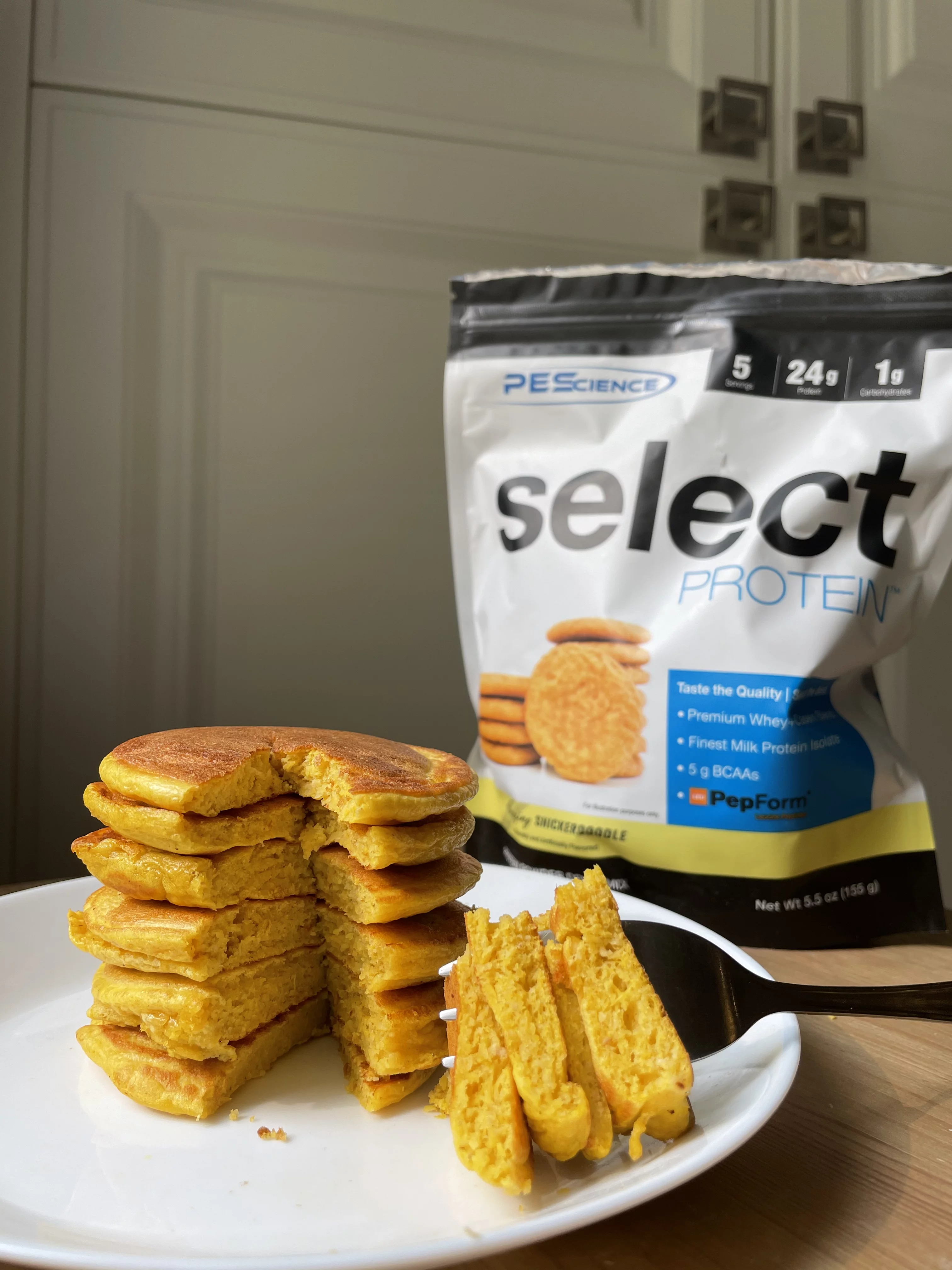 Please read!
Before we proceed, I must put a disclaimer in for my food connoisseurs: please don't expect these pumpkin protein pancakes to resemble these Butterless Fluffy Pancakes for Two, let alone your typical stack of diner pancakes! Due to the high protein content and use of oat flour in our batter, this recipe yields a slightly heavier and denser mouthfeel, but in the best way possible; think nutty and nourishing whole-grain goodness, not rubbery and eggy hockey pucks.
Additionally, I'd like to address the low-calorie aspect of this recipe, just in case anyone gets the wrong ideas. I've made quite a few low-calorie, high protein recipes for those subsisting on "poverty macros", but I am by no means promoting the consumption of meals under 300 calories. Instead, as an indecisive foodie and nut butter fanatic, I created these recipes to help people like you and me satisfy our cravings whilst meeting our nutritional needs, whether it be having both banana bread AND brownies for breakfast, or fulfilling an intense craving for runny nut butter with a stack of protein-packed pancakes!
For me, pancakes merely exist as a vessel for generous dollops of nut butter, maple syrup, and sliced strawberries (typing this with a straight face). I've only taken/included pictures of Pumpkin Protein Pancakes in their purest form (no toppings!) to better capture their texture and colour. Rest assured, none of these pictures were edited. No touch-ups on saturation, brightness, sharpness, or anything of that sort 😌
Keep scrolling for the ingredient breakdown and recommended substitutes!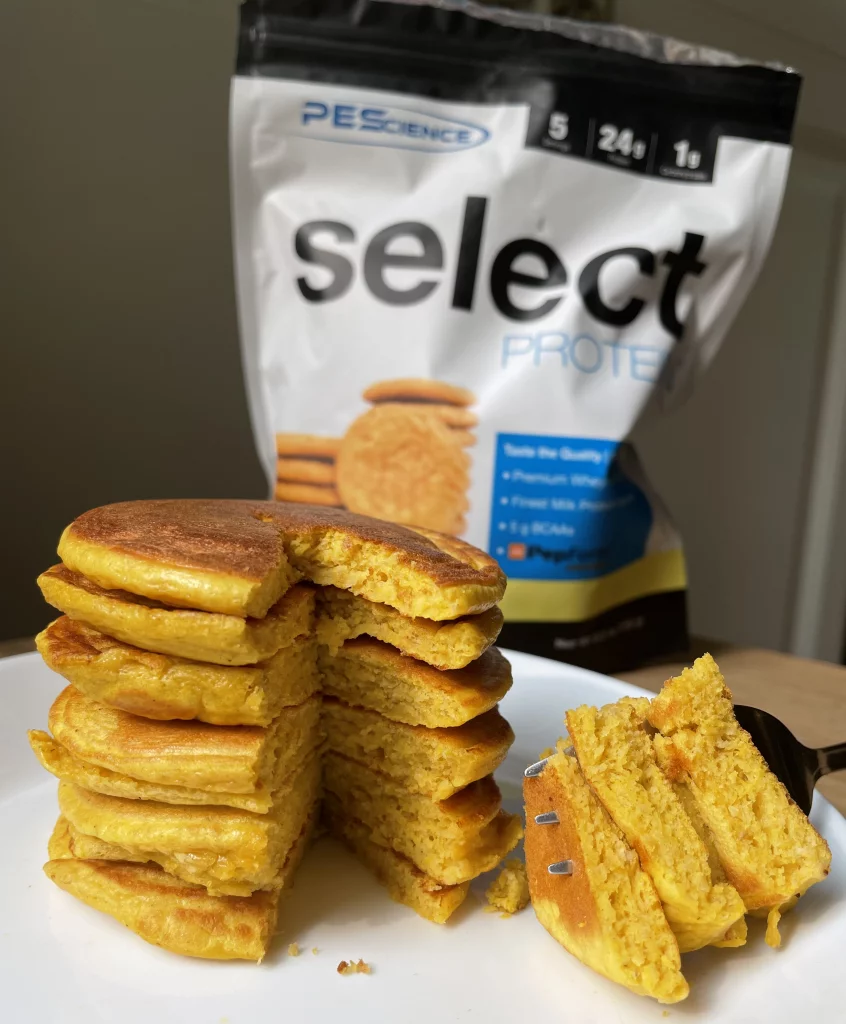 Pumpkin Protein Pancakes… the perfect breakfast? It's a yes in my book!
This combination of good-for-you ingredients allows for a slow and sustained release of energy, increasing satiety and promoting cognitive performance.
Ingredient Substitutions:
1. Rolled Oats (blended into oat flour)
Oats are an affordable, gluten-free source of slow-release carbohydrates that are packed with a plethora of health benefits (and a subtle nutty flavour which I love). Not only do these grains boast anti-inflammatory properties, but they're also 11% dietary fibre, thereby boasting an impressively low glycemic index (<55) of 50! The higher the glycemic index, the quicker the spike in insulin and blood glucose (blood sugar), increasing lethargy and hunger. Conversely, the lower the glycemic index, the smaller the effect on blood glucose.
A note of caution: for those with diabetes or Polycystic ovary syndrome (PCOS) especially, instant oats, unlike their less-processed counterparts, are lower in fibre and NOT a low glycemic food.
You might like: Skinny Caramel Granola Clusters in 30 minutes
Recommended substitutes for

Rolled Oats
Closest substitutes:

All-purpose flour (or any GF AP blend/equivalent)*
Almond flour [gf, low carb]*

Other replacements

Cassava flour [gf]* (will need extra liquid)
Coconut flour [gf, low carb] (15-17g, ~2 tbsp) PLUS:

an egg yolk + liquid (e.g. cream) as needed
1 tbsp nut butter/tahini + 1tsp oil/melted butter + liquid (e.g. cream) as needed
*Replace with equal amounts in weight, NOT volume. Please drop me a comment if you need help with conversion!
2. Cooked Pumpkin (steamed, boiled or canned purée)
Ever wonder why pumpkins are orange? The bright, golden hue of pumpkins, squash, carrots, apricots, and cantaloupe are actually caused to the high concentrations of beta-carotene present, a pigment our bodies convert to vitamin A.
Clocking in at just under 4.9g of carbohydrates per 100g, boiled pumpkins are also an affordable and keto-friendly source of moisture and sweetness in recipes, and one of my go-to ingredients for bulking up low-calorie, high-volume recipes.
You might like: 90 Calorie Healthy Pumpkin Banana Bread
Recommended substitutes for

Cooked Pumpkin
Closest substitutes: 50g cooked squash (kabocha, butternut, acorn, honey-nut) or sweet potato**
Other replacements:

50g cooked carrots, cooked beetroot, or applesauce**
50g banana
a small egg
2 egg whites, whipped (fluffy!)
**Reduce/omit the 1tbsp (15ml) of water to thin accordingly. Feel free to use a combination of these ingredients, but make sure they sum up to 50 grams in weight.
3. 1 Whole Egg
Contrary to popular belief, despite being high in cholesterol, the consumption of eggs has an insignificant effect on blood cholesterol. Our bodies (more specifically, our liver) actually produce cholesterol naturally, as the chemical compound is a crucial component of cell membranes and key hormones. In fact, following an increased intake of dietary cholesterol, the liver will simply produce less.
Both chicken eggs and plant-based substitutes like flax are also rich in healthy fats (Omega-3s, anyone?) as well as vitamins, and are an accessible, affordable binder in baking. Need I say more?
Recommended substitutes for
Eggs
Best replacements:

1 flax egg (3tbsp/ 45ml warm water + 1tbsp/7g flaxeed powder)
1 chia egg (3tbsp/ 45ml warm water + 1tbsp/7g flaxeed powder)

Other replacements (according to a Google search, substitute at your own risk!):

Any commercial egg-equivalent prepared according to instructions e.g. Ener G Egg Replacer
2tbsp water + 1tbsp oil
3tbsp mayo + 1tbsp oil
(click HERE for $10 off orders $30 or more!)
I've been loving PEScience in recipes because I ran out of sweetener a while back and their protein powders flavour anything from oatmeal, waffles, cookies, to pancakes perfectly! According to their website:
"100% whey protein in isolation…can spike protein synthesis… but quickly returns to baseline, leaving you where you started… [whereas] …casein, a slower-digesting protein results in more retention of ingested protein than whey!"
"The 2005 International Whey Conference concluded that a mixture of whey + casein is the optimal form of protein for gaining muscle mass."
While it is true that PEScience's protein powder is slightly more expensive in comparison to brands like Myprotein's whey blends, I found its 20/80 whey-casein protein ratio much more mixable, and much less grainy.
You might like: 4 ingredient Microwave Pea Protein Pancakes
Recommended substitutes for

PEScience Protein Powder
I did some investigating on Google, as one does, and compiled a list of popular protein powders that should yield similar results… let me know in the comments what other brands have worked for you!
Bad Athletics
Bowmar Nutrition
Ghost Whey
Myprotein
Optimum Nutrition
PHD Diet Whey
Quest Nutrition
If you have whey AND casein on hand, please help your girl out and test these at a ratio of 20/80 (to mimic PEScience's blend) – I'm super curious to see whether that'll produce the same results!
Pin this before you forget!
Whew! That was a long post! If you do decide to make these Low-Calorie Pumpkin Protein Pancakes For One, remember to tell me how you liked 'em in the comments below!
Until next time✨
Heather